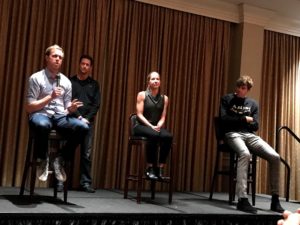 During a cold, February winter weekend in Akron Ohio, that last person you expect to meet is a top tier professional tennis player.  They are supposed to be in the south of France or Doha,  Qatar, Sofia, Bulgaria or Quito, Ecuador.   Akron Ohio?  Not so much.  But every year a great event is put on by Victory Gallop that does just that.  They manage to bring top tennis talent to the Akron area to meet local tennis enthusiasts and play exhibition matches with local players.  All in the name of helping kids.
This year, Sam Querry,  a top American tennis player currently ranked #12 in the world, spent the weekend getting to know local residents and sharing his tennis wisdom along with Reilly Opelka, the tallest player on tour and a young up and comer as well as Jill Craybas, who upset Serena Williams in the 3rd round of Wimbledon in 2005.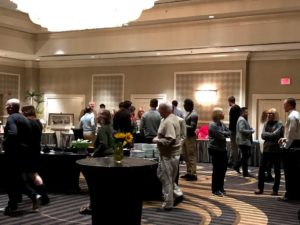 The relaxing atmosphere at the meet and greet made attendees feel very close to the players and their willingness to joke around and dish some dirt made it very entertaining.  Attendees learned that they all take a lot of pain relievers, but they all prefer different types.  Also, the discussion on gamesmanship and cheating was very informative for parents there with kids who dream of being a pro some day. We live streamed about half of the Q&A and you can watch the video below or on the Akron Today Facebook Page.
The evening was capped off with an auction to get a chance to play with players the next day at Springside Raquet and Fitness Club.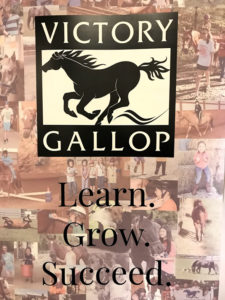 All of this is to raise money for children to participate in Victory Gallop.
Victory Gallop is located in Bath, Ohio and is a nonprofit organization that provides therapeutic and recreational horseback riding for children with behavioral and/or emotional challenges and life-threatening illnesses.
Founded in January of 1995 by David M. Miller, DVM, Susan J. Miller, M.Ed. and Kimberly A. Gustely, M.S., it has helped many children with "invisible" impairments and life-threatening illnesses. From their website, Victory Gallop describes itself as a place where children, ages 3-18 years of age, dealing with many different challenges are accepted for who they are. It provides an environment where children can learn, grow and succeed through their relationship with the horse. The farm is a place where a child can find a friend who is willing to listen and offer encouragement and support. There are high expectations for hard work, hand in hand with a supportive framework of caring volunteers who help each child build their self-esteem while they learn about riding and caring for the horses.
One parent at the even shared how his son and the whole family feels the impact of their program.  After working with the horses his son is far more confident at school and is thriving.  These kinds of personal stories are how you know an organization like this is making a difference in people's lives.
This event is not a onetime thing.  A couple of years ago my family and I attended and met the Bryant Brothers, Melanie Oudin and Sachia Vickery, who is having a good year this year.  If you are a tennis fan you need to put a reminder on your calendar and check out Victory Gallop each year after the holidays and get tickets to come a support a great cause and attend the biggest Akron tennis event of the year.