Walking alone, especially at night, can be worrying for some. In Ohio, over 200 victims of human trafficking were identified in 2017, according to the Ohio Attorney General Office's annual report. Although men and women can both be victims, one in three women will experience a violent attack in their lifetime. These self-defense strategies will improve confidence and may make the walk home safer for everyone.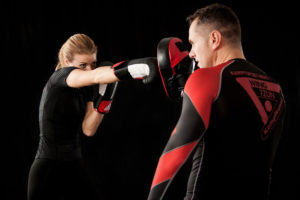 Self-defense is considered using reasonable force to protect oneself or their family from physical harm inflicted by an attacker. The defender must believe they are in danger of the assailant and cannot excuse excessive force. Other ways to feel safe besides using physical force is keeping pepper spray in your hand while walking, or putting keys in between your fingers. Staying on the phone with someone while walking alone can help ensure your safety, and staying aware of your surroundings helps. Everyday items like phones, keys or umbrellas can all be used as a weapon if someone was to attack you, making them more likely to run away.
If the purpose of the attack is to rob you, it's safer to hand over what they want than to refuse. The best course of action is to defuse the situation as quickly as possible. Money, wallets and phones can all be replaced, but your life can't. Getting out and away from the situation is far safer and easier than blocking such an attack. More importantly, trust your instincts. If you get a gut feeling that your normal route home seems "off" that night, or if someone is giving off creepy vibes, go another way.
While you are walking out alone, think about presenting yourself with confidence. According to Black Belt magazine, attackers focus on those who look confused, scared or distracted. These individuals are looking for someone they can easily overpower, and by presenting yourself with your head up and shoulders back, you are less likely to become a target. If someone attempts to engage with you, respond back just as confidently. This could be an attacker assessing how you may be feeling, so don't allow them to throw you off guard. Avoid freezing up and respond with confidence and stay calm. Appear non-confrontational, but don't allow them to get too close either and try to keep a safe distance between you and the other person. If they enter your personal space, tell them to back off, and if they don't, push them away from you.
As soon as you are touched by someone, shout as loud as possible and fight back against them. There is no time for compassion in this situation and it's important to act fast. The most effective parts of the body to hit are the eyes, nose, ears, neck, groin, knee and legs. Always maintain your distance, and don't move closer to land a hit. When attempting to hit, leverage your weight into the swing to make your strike land with more force.
The first effective self-defense move is the heel-palm strike. Shove your hand with an open palm quickly and strongly upwards into the bottom of the nose. The second move is striking the eye, which can help you prepare for another attack. The eye strike is simply jabbing your hand into the eyes of the assailant, and whether the hit lands or not, the attacker will probably recoil. The last simple move is the knee strike: driving your need upward into your attacker's groin, which could potentially end the fight quickly.
To make these moves even more powerful, consider incorporating the use of everyday objects, like keys. Also use your elbows, knees and head when trying to fight back, which are strong parts of the body. If you're ever knocked down to the ground, remember the heel-palm and eye strike, which are just as effective from the floor. If the attacker is standing, kick at him, as your legs will keep them at a distance. Even on the ground, attempt to aim for the groin with a kick or a knee, and remember to always look for an opportunity when there's an opening.
Don't be afraid of what's out in the dark, simply be prepared. Be aware of your surroundings when walking alone, and always keep something in your hand for a makeshift weapon or a phone call. Try to get out of a situation before it turns physical, but remember that using your body for defense can save you.
---

LynAnne Vucovich is a journalist who studied at the E.W. Scripps School of Journalism at Ohio University. She has a passion for culture, community and cats.