This month I have had the pleasure of being at two events in the private dining room at Ken Stewart's Lodge.  It is not always easy to find a place to have a meeting for 15 or so people that is private, has good food and is respectful of a meeting being conducted but still keeps drinks full and expedites food service with barely a pause in the proceedings.  We experienced that both times we had annual board meetings for two boards.
One reason it was chosen is the location which is convenient for both Akron and Cleveland people to reach.  We had people coming from Fairlawn, Kent, Cleveland and Green and no one had more than a 30 minute drive which made the location perfect.  Ken Stewart's Lodge is located in Bath, Ohio at 1911 N Cleveland Massillon Rd, Akron, OH 44333.
So first, let me start by saying it is not a place I would take MY kids.  The food is great (get to that later) but the theme is a lodge and my mostly vegetarian and animal loving kids would not like a hunting lodge theme.  The men's bathroom alone has 4 mounted animals.  It reminds me more of my childhood of camping and outdoor kinds of places, but today's vegetarian, cell phone loving kids may not appreciate it as much.  It is definitely an experience you do not get every day though.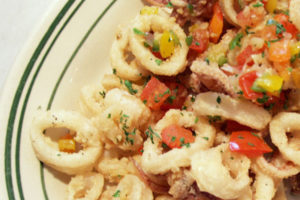 My first experience there I was adventurous with the appetizer and safe with the dinner.  The fried calamari appetizer was really nice and I would definitely have it again.  It had just the right amount of ingredients to make it interesting and it was cooked just right.  Shame on me for getting the 10 oz Lodge burger after that – only because it was a perfectly good burger but I should have had something more special.  What I really did enjoy with it was the truffle fries.  They were delicious.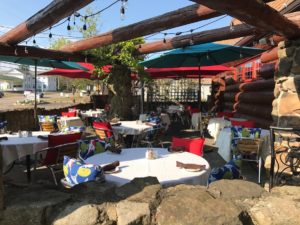 When I went back the second time everything was just as perfect and I had the Potato Encrusted Halibut at the recommendation of a manager in the restaurant.  Fish is never my first choice but I wanted them to tell me which dish they felt is a signature dish.  It turned out to be a great recommendation.  Definitely one of the best fish dishes I have ever had.  Moist, tasty and much bigger than I thought it was going to be. I love that dish.
While that covered what I had, I was there with about 15 people on two different occasions and I can tell you not a single person did not like their dish.  The entire evening went smoothly, had a wonderful atmosphere and everyone left satisfied and happy.  If you are looking for a nice place to have a small group private get together in Akron that is also convenient to Cleveland, Ken Stewart's Lodge should be your first choice.