Many people make New  Year resolutions to begin the year with a bang.  Many of us do not stick to them, and some of us make resolutions that are bound to fail from day one. If you made a resolution this year to spruce your home and declutter, that's a resolution that makes sense and that you might be able to accomplish.  If you are replacing the flooring of a room in your house and don't know where to begin, read ahead.
Depending on the room in your home, flooring can be an easy decision to make but also it can present itself with questions about what it's best for your family.   
Kitchen and bathrooms: These wet areas require flooring that is sturdy, and won't be damaged by water spills.  Some flooring can become slippery when wet and can be very dangerous for your family.  The best flooring for these type of rooms are:
Vinyl

Laminate

Tile
Keep in mind that there is some specific laminate flooring you can use in these rooms.  Normal laminate flooring can become very slippery and warps rather easily with small amounts of water on it.  You need to find the laminate flooring that can withstand water or other types of liquid spills without damaging it.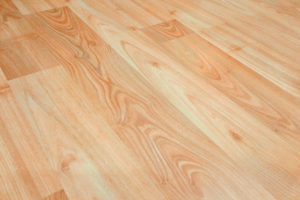 Living Room, Dining Room, and First Floor Rooms: These high traffic area rooms need a more sturdy, high-quality flooring that will not only be durable for your home but can make your home look beautiful as well. These are some of the types of flooring that are most commonly used for these rooms in your home:
Hardwood

Bamboo

Laminate

Vinyl

Carpet
For many environmentally conscious homeowners, hardwood does not seem like a very likable option.  Many of these homeowners have chosen to opt for the more environmentally friendly bamboo flooring. If you are thinking about vinyl flooring for some of these rooms – especially for dining rooms, kitchens, bathrooms and the main entrance of the home- vinyl has come a long way from the one sheet vinyl flooring our parents and grandparents grew up with.  The look of vinyl is not what it used to be, so choosing it over other types of flooring is not outdated.
Carpet for the bedrooms of the home has been the main choice for many homeowners though out the years, but if you have children with allergies or other respiratory problems, laminate or bamboo flooring can be a very nice second option for you.
There are many pros and cons you have to consider with every choice of flooring there is. Price, durability, ease of installation, look.  But, remember, buy what you love for your home.